Company Profile
Company Profile
RUC :

20493383338

Business Type :

MANUFACTURER, TRADING COMPANY, OTHER, SERVICE, DISTRIBUTOR/WHOLESALER

Main Products :

FRESH PAICHE (Whole, Skin Steak, Skin Steak), FROZEN PAICHE (Skin Steak, Skin Steak, Skin Portions Steak), SMOKE PAICHE (Skin Steak Fillet), SALT PAICHE (Steak Pressed Portion With Skin)

Main Markets :

PERÚ , UNITED STATES , FRANCE , SPAIN , UNITED ARAB EMIRATES , BELGIUM

Total of Employees :

15

Year Established :

2005

Exports Since :

2015

Certificates :

-
We are an Aquaculture Company dedicated to the reproduction, fattening and commercialization (National and international) of Paiche. Our company has more than 14 years of experience in the development of farming centers that integrate sustainable production together with the care of the environment and respect for cultural diversity. We have developed our crop centers in the Amazon rainforest, near Iquitos, Peru.
The Paiche (Arapaima gigas), also known as the Amazon giant, is bred by our company in total harmony with its natural environment, aware of the fragility of the species, our operations do not affect the sustainability of the resource, since it does not extracted from the wild, unlike capture fisheries, we cultivate the Paiche from its reproduction phase until its fattening in captivity without genetic manipulation, antibiotics, hormones or others, sexual reversal and we do not use immuno stimulants.
Our product is a true portion of nature placed on your plate, with a unique environmental respect initiative, the Paiche is not only an excellent Amazonian fish, it is also quality and sustainable differentiation for the culinary world.
WE PERFORM BIOMETRIC AND SANITARY CONTROLS, thus ensuring strict control of optimal production conditions.
HANDLING PRODUCTION AND LANDING, which allows us to meet the needs of our customers in volume and time.
STRICT CONTROL OF NATURAL FOOD, to get 100% organic products.
Contact Information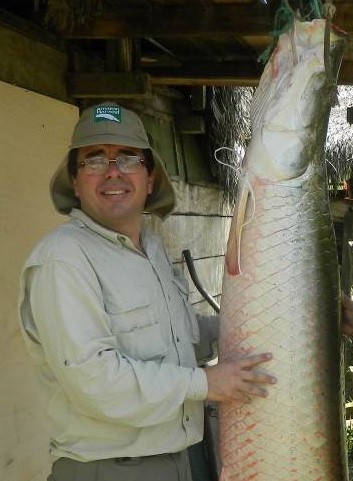 ITALO SOLIMANO

Department :

Gerencia

Job Title :

Gerente General
Address :

Carretera Moralillo, Km 2.6 S-N Cas. Moralillo - Parcela 54 (sector 8 -iquitos) Loreto - Maynas - San Juan Bautista.

City/Area :

SAN JUAN BAUTISTA

State/Province :

MAYNAS

Country :
Phone :

+51 990 613 819

Share