Company Profile
Company Profile
RUC :

20556450600

Business Type :

MANUFACTURER, TRADING COMPANY

Main Products :

Organic and Conventional Garlic, Chili Paprika, Fresh and Dried Organic Ginger, Organic Lima, Giant Corn

Main Markets :

UNITED STATES , NETHERLANDS , MEXICO , GERMANY , SPAIN , UNITED KINGDOM

Total of Employees :

200

Year Established :

2014

Exports Since :

2014

Certificates :

-
We are a leading company in Peruvian Agro-export, complying with the standards and requirements of each client.
Our main destination markets are the USA, Mexico, Spain, Holland, Germany and England.

We enter these markets with our products: Paprika, Ancho Chile, Guajillo, Garlic, Organic Banana, Organic Sweet Potato, Organic Tahiti Lemon, Organic Avocado, Sweet Yellow Onion, Organic Ginger and Turmeric and, among other spices and grains such as Yellow Beans, Corn giant from Cuzco, Quinua, Chia and Achiote.

We have our own farms of almost 1,000 hectares with the Organic, Global Gap, Grasp, Fair Trade and Smeta Certifications in the Lambayeque - Olmos Region.
Contact Information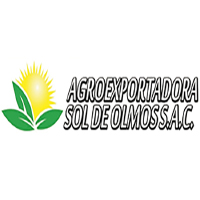 JHON OYOLA

Department :

Lima

Job Title :

Ejecutivo Comercial
Address :

Calle 2 N° 120 Barranca, Barranca - Lima

City/Area :

BARRANCA

State/Province :

BARRANCA

Country :
Phone :

+51 993 156 671

Website :

company url go

http://soldeolmos.com/

Share